Reminder for Seniors and Senior Parents: All graduating seniors and their parents are invited to the senior breakfast at 8am Friday morning. Graduation practice will begin at 9am following the breakfast.
The Stockton Senior Awards Assembly will be live streamed tonight on the NFHS Network - free of charge! If you cannot make it tonight, follow the steps below to watch it live or on demand: Type in
https://www.nfhsnetwork.com/
or click the hyperlink. Search for Stockton High School - Stockton, MO Look for and select the event shown below. We are proud of all of the achievements made by the Class of 2022 and are excited to celebrate your achievements with you!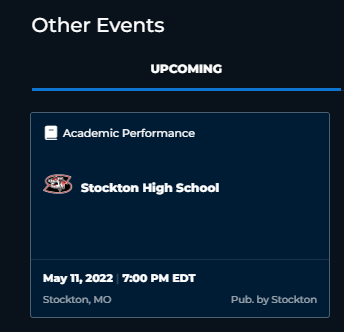 Please congratulate the following Stockton Middle School students for being named the STOCKTON STRONG Students of the Week (April 25 - May 6): 5th grade - Blake Bradshaw & Hadalee Winkie 6th grade - Taylor Graves & Leighton Heiskell 7th grade - HayLeigh Burres & Christian Irwin 8th grade - Cuper Duncan & Dalaney Taylor Grade level teachers recognize students biweekly on the basis of citizenship, work ethic, and attitude.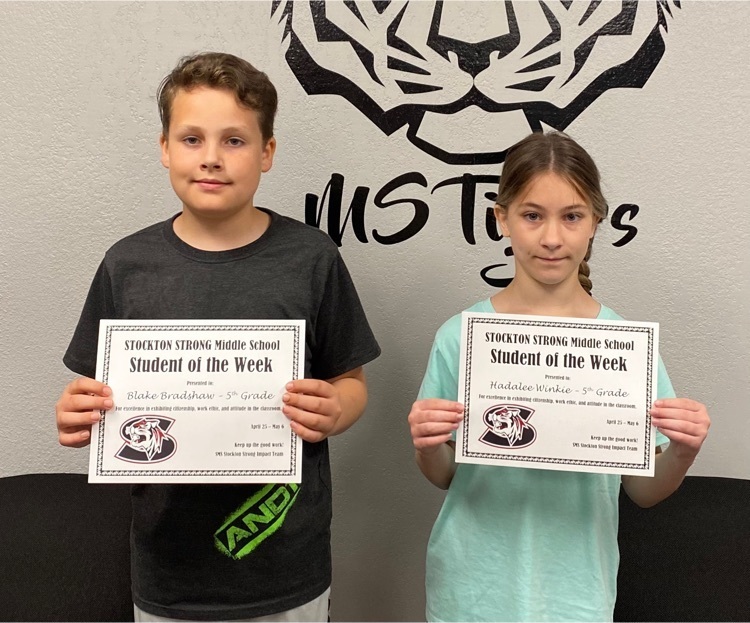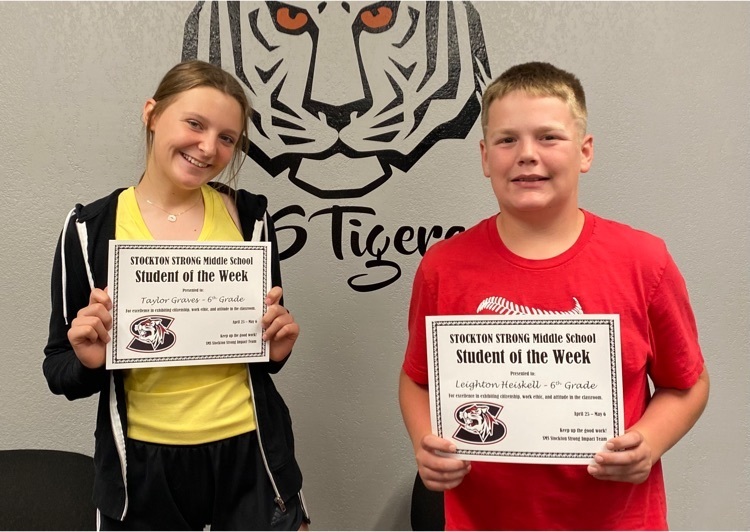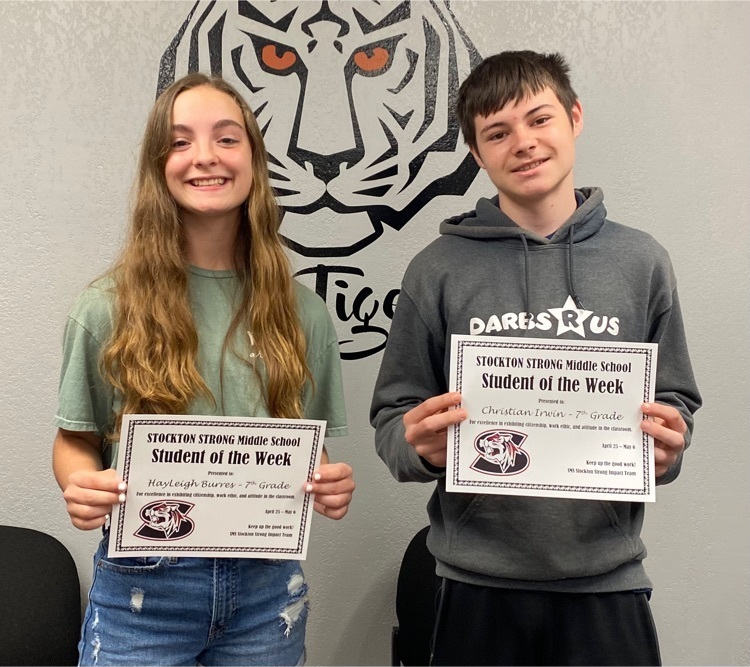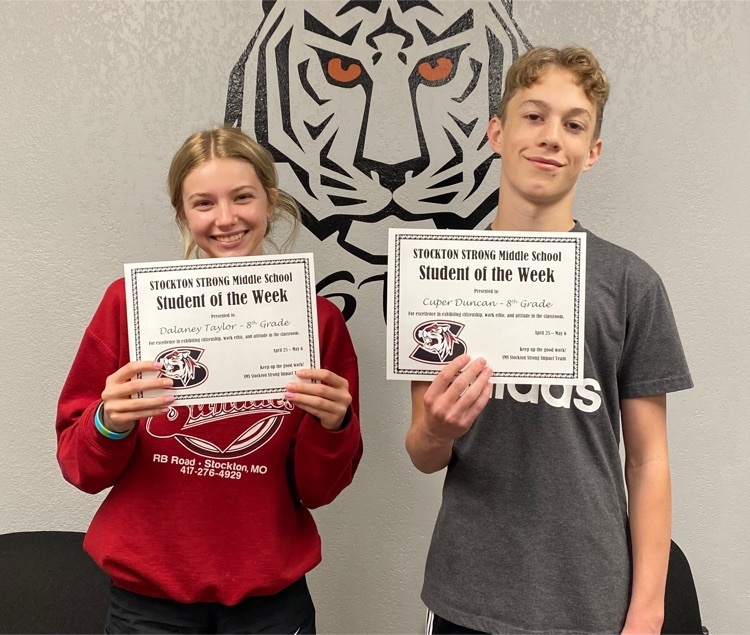 Senior Updates!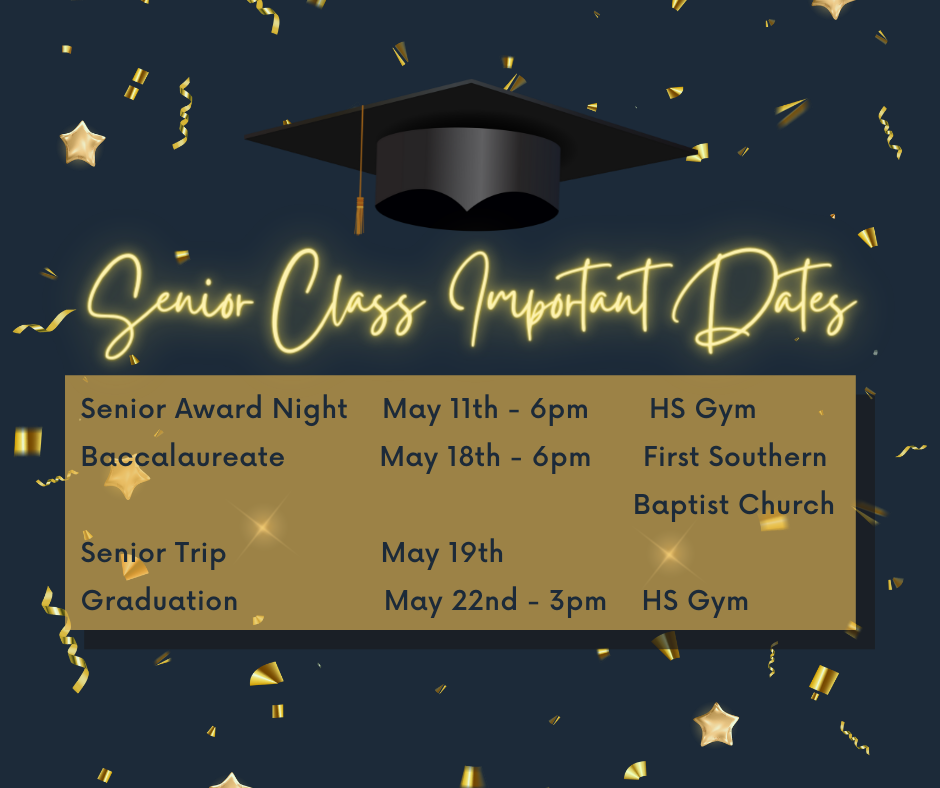 May 10th- Bus 13 will be approximately 25 minutes late.
#1 IN THE NATION IS ONE OF STOCKTON'S OWN! Congratulations to Mitchell Gant for placing 1st in Career Preparation at the first ever JAG National Career Development Conference held in Addison, Texas. Mitchell competed with students across the United States and gave an amazing presentation on his desire to pursue a career in aviation. CONGRATULATIONS, MITCHELL! We are all so proud of you! #Stocktonstrong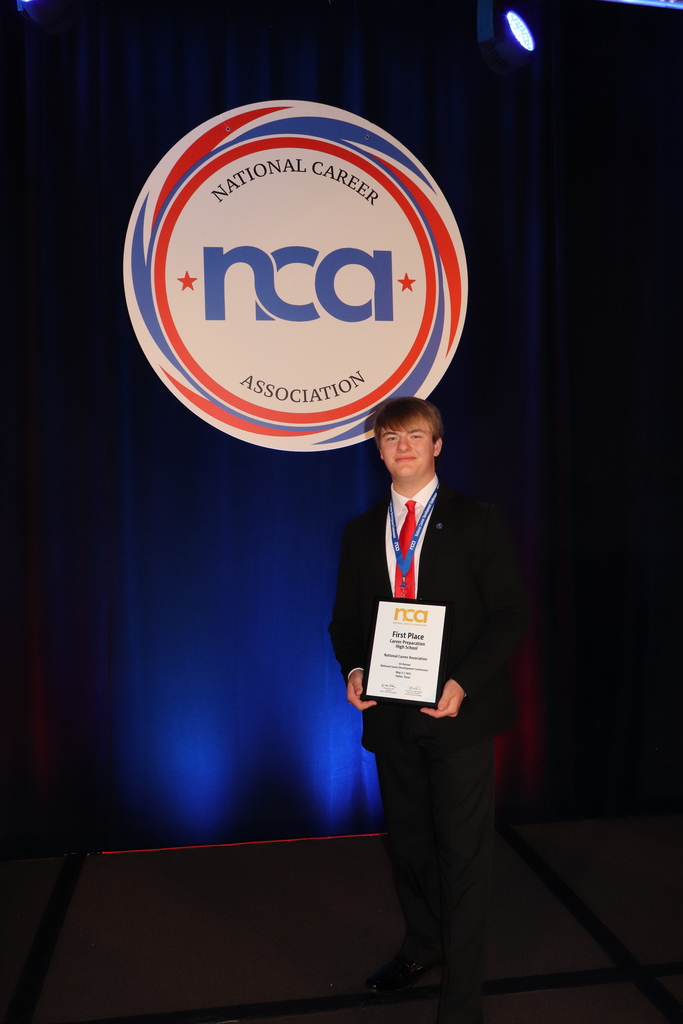 We are expecting even more rain into the night and tomorrow morning. Please be patient as our busses navigate through wet and washed out roads this evening and tomorrow. This may cause our busses to be off of their regular schedule.
THANK A TEACHER THIS WEEK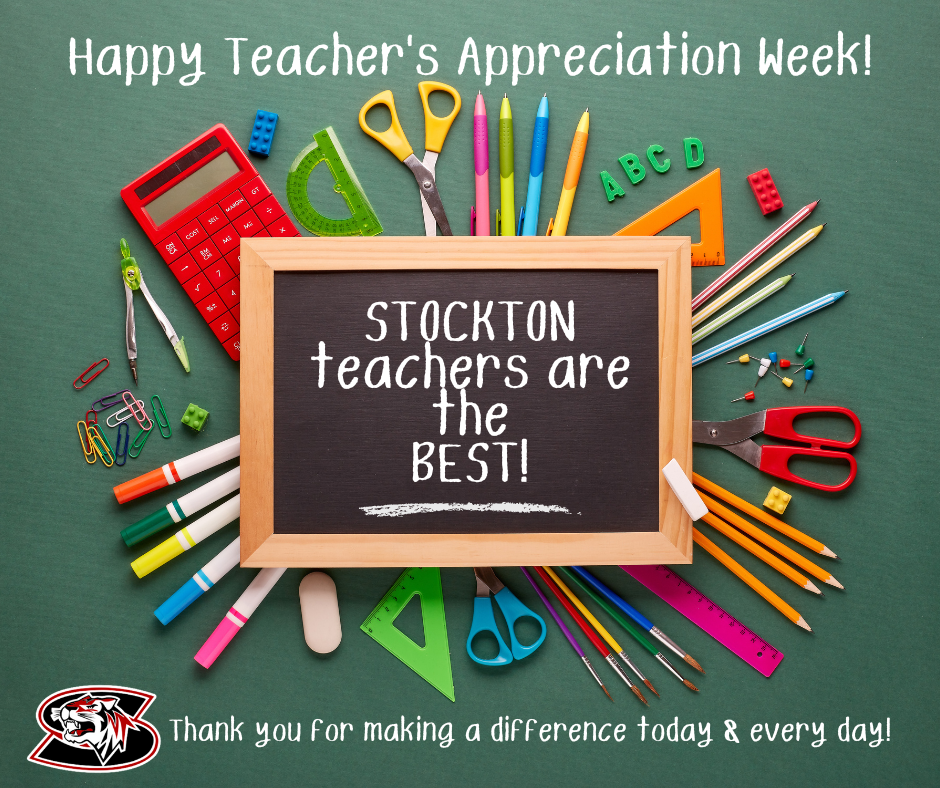 Please congratulate the following Stockton Middle School students who, on Monday, were named the STOCKTON STRONG Students of the Week (April 11 - April 22): 7th grade - Dallas Irwin & Victory Stine 8th grade - Ashton Hardesty & Abigail Strait Grade level teachers recognize students biweekly on the basis of citizenship, work ethic, and attitude.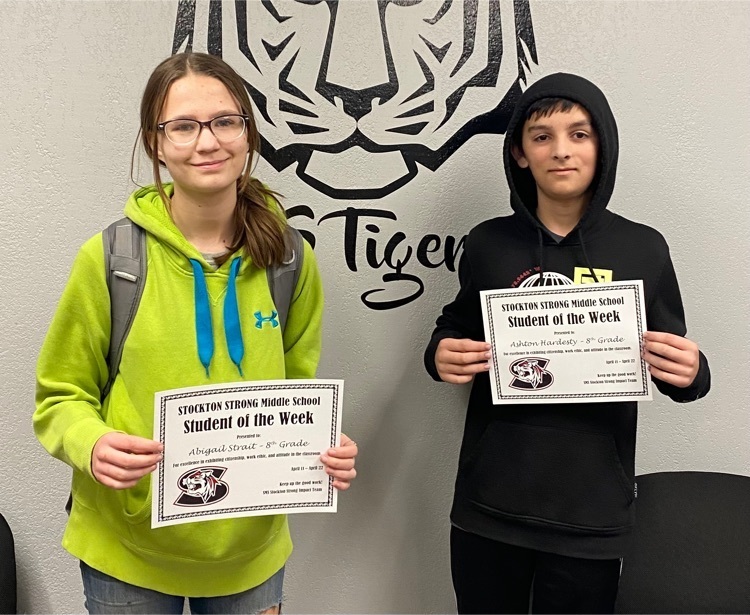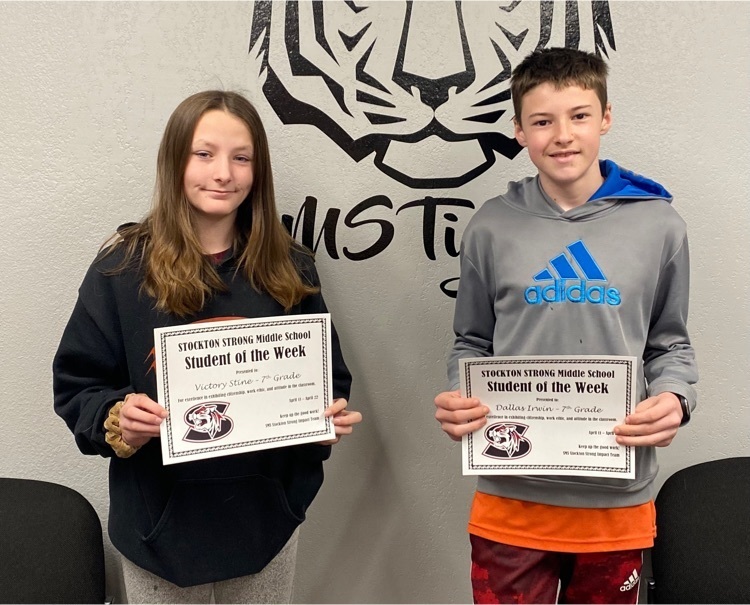 This is a reminder that Stockton will be in school tomorrow- Monday- April 25th.

The Lady Tigers pulled of an undefeated day and won the championship of the Marionville Tournament. The Lady Tigers defeated Hurley 15-0, Clever 5-3, and beat a tough Marionville team 9-8 in extra innings. Ellie Petit had the walkoff hit in the 8th inning. Abby Flora pitch 12 innings on the day picking up 2 wins. It was a great team effort, great job girls!!!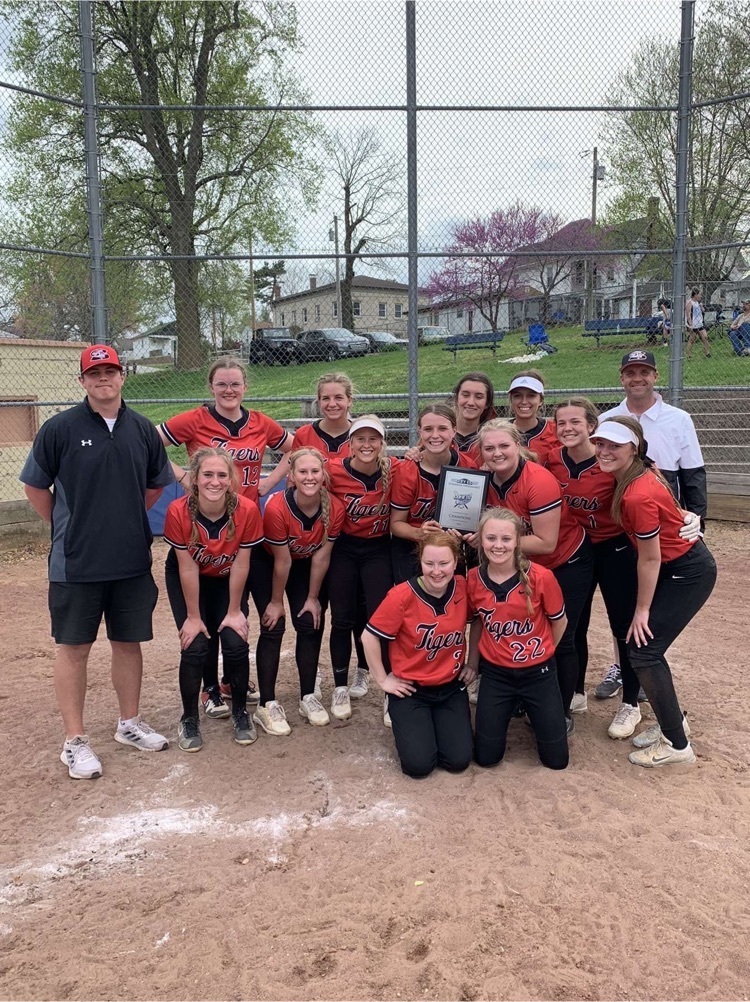 I want to explain a little better of our bus delays this morning- Due to the heavy rains yesterday there are several gravel washouts that our busses had problems with. This coupled with a mechanical issue had an impact on our overall bus routes. We apologize for delays and students being missed this morning.

April 22nd- Bus 13 will be approximately 30 minutes late due to mechanical issues.

Middle School Dance!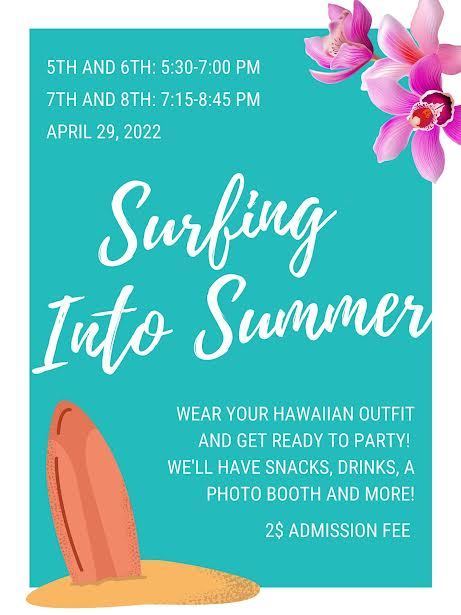 Please congratulate the following Stockton Middle School students for being named the STOCKTON STRONG Students of the Week (March 29 - April 8): 5th grade - Macy Collins & Jake Nikodim 6th grade - Hassan Dadkhah & Hailey Worley Grade level teachers recognize students biweekly on the basis of citizenship, work ethic, and attitude.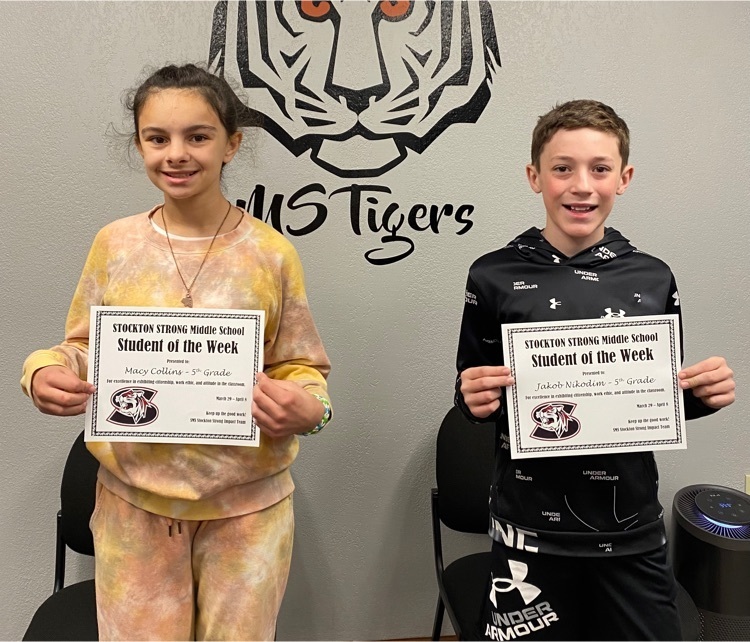 School will be in session Monday- April 11th. Students will not have school this Friday- April 15th.

Brandon Neil introduces the speakers at the Stockton FFA/4H show pig clinic. Students from across the county were invited to bring their pigs in and learn about general care and show preparation. FFA and 4H help young people experience agriculture through hands on events like this. Thanks to everyone involved.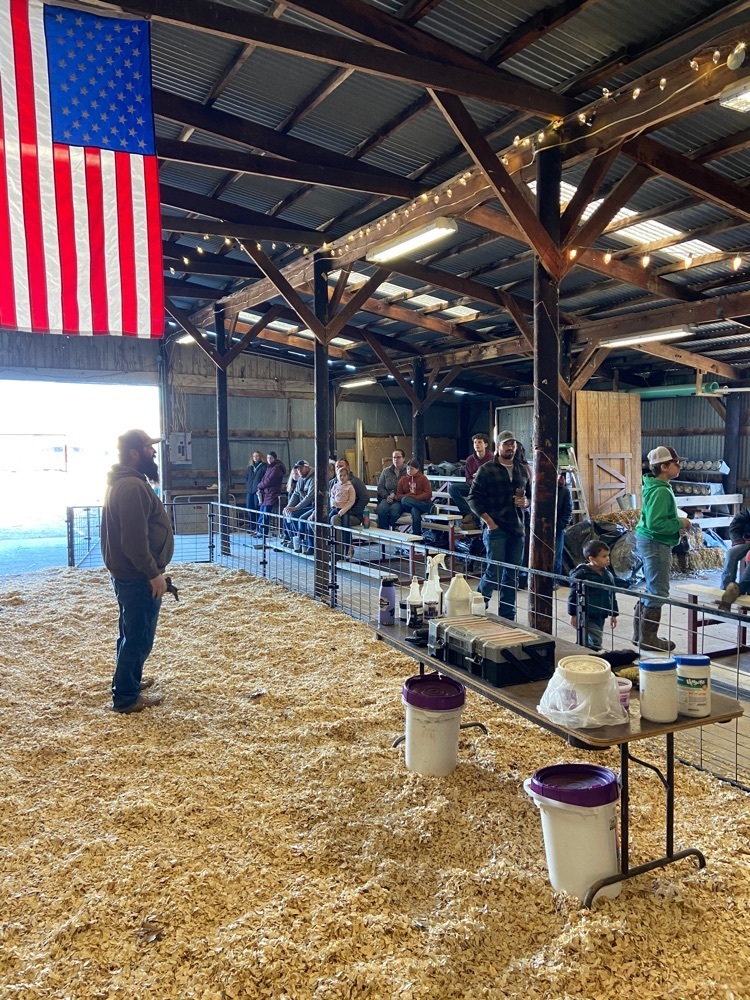 April 8th- Bus 6 will be approximately 15 minutes late.

The STOCKTON STRONG Middle School Staff Member of the Month for March is Mrs. Kelly Postlewait. Comments from our MS staff: I know Kelly has always been a help with our students when it comes to speech, but adding her into our classrooms this year has been like unearthing a rare gem. She is so wonderful! She has seamlessly transitioned into this new role, and has built a great rapport with those students who need the most help. Kelly not only provides that help, but encourages each of those students to go above and beyond. She truly cares for their well-being and they know it. Thank you for fully joining us, Kelly, we have really appreciated your presence in our building! Kelly goes above and beyond to make sure she is helping all students fill in the gaps. She is always thinking of ways to better support our kids and is always a great ear to brainstorm solutions with. She has a lot of places to be during the day, but manages to make a meaningful impact with students each day. She is always popping in to give support where needed without being asked. Her role has been vital to helping us bridge the gap between Elementary and Middle school and she has done a phenomenal job. Kelly pulls out students to give them individual instruction. I get to watch the way she interacts with them. She is kind and patient and develops a great rapport with them. She is a great asset to our building. We could use some more "Kellys"! Thank you Mrs. Postlewait for all that you do!!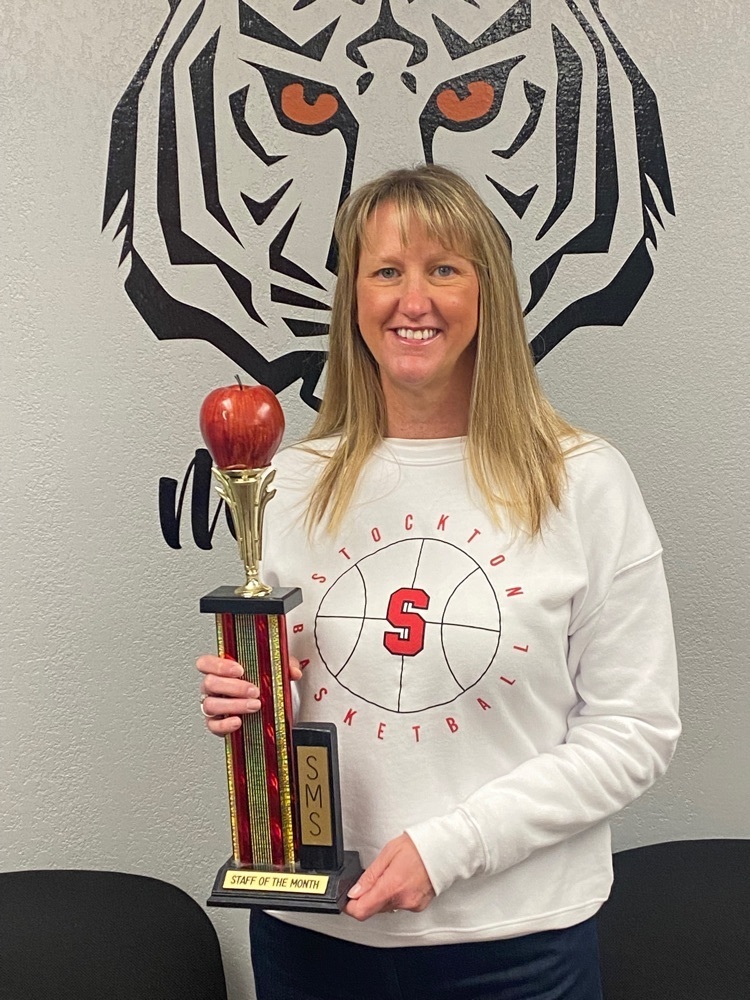 Congratulations to the MS March Students of the Month. The character word of the month for March was SELF-CONTROL. 5TH - Bryson Gaudreau Bryson is an ideal student for the character word of self-control. He is polite, respectful, and keeps his composure at all times. Bryson can be placed into a group with any members of his class and he maintains self-discipline throughout the task. If inappropriate behavior is going on around him, he has the willpower to stay focused on his job and not join in with those misbehaving. Bryson is always showing self-control. He is able to laugh and have fun during school; but also knows when it's time to calm down and focus. No matter what is going on around him, he is always able to control his actions and do what he needs to do to be successful. I admire this about Bryson because it's not always easy to stay focused and show self-control with friends and classmates around. But Bryson shows up every day ready to be his best self! 6TH - Aleah Daulton Aleah is an example of a person with self-control. She pays attention when the teacher is giving the lesson, she finishes her work on time, she uses time management skills, and listens when others are talking without interrupting them. Aleah is so polite, she has a sweet disposition, and her presence each day in class is a joy. 7TH - Connor Bradshaw Who better for this award, than Connor... He truly exhibits good self- control. I have never seen him get really riled up. I have never seen him lose his temper. He stays calm and in control. He is a delight and a good example to his peers. Connor is very deserving of this award. Connor is always very level headed. No matter what is going on in class, he controls his response and stays focused on what he needs to get done. Connor always stays calm under pressure." 8TH - Blaze Perry Blaze is a great example of what self-control embodies. When she finds herself among a chaotic situation she has the ability to not be a part of the problem but finds a way to help be a part of the solution. She always has her work turned in on time and when she is gone, she comes back the next day asking for her missing work. Blaze is a joy to have in class and a real hard worker. She has a very bright future.