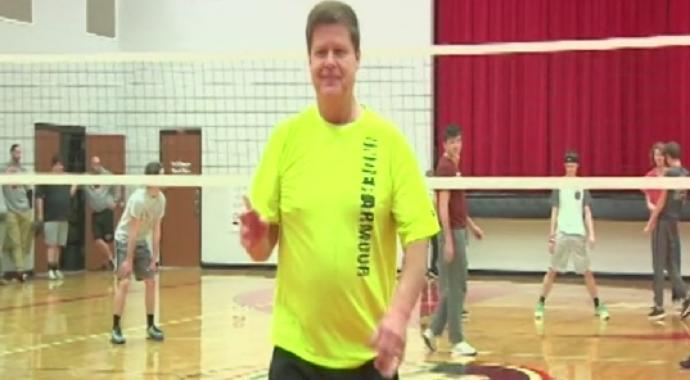 One-man volleyball team carries overcoming the odds message to students
Ky3
Wednesday, February 21, 2018
See the full video below:
http://www.ky3.com/content/new...
STOCKTON, Mo. As the school shootings in Florida showed us, this is a difficult time to be a young person these days. And that's why a man is touring the country as a one-man volleyball team, using a unique approach to get the attention of school-age children to get across his very important message.
As you walk into Stockton High School, you notice a sign above the administration office that says, "Life's a Garden. Dig It!" A motivational message from an unlikely movie, "Joe Dirt".
And the same is true for Bob Holmes, who as a one-man volleyball team, has been recognized by Ripley's Believe It or Not for playing the most games of any athlete in any sport in the world. At age 61, he's averaged 50 games per week for over 30 years, racking up over 19,000 wins and less than 400 losses. And he's even played professional teams.
"The Redskins, Orioles, Vikings, Buffalo Bills," he recounts. "Normally they just show up because they like competition and they want to be the first pro team to beat me and they haven't yet. But I'm supposed to play the Heat, Dolphins, and Marlins in May."
The Boston native never even played volleyball in high school or college,
"I was always the last one to be picked on a team growing up. That's why I play by myself," he laughs.
And he took up volleyball at age 29.
"I had a bad back and a chiropractor suggested that I work out just to get in shape," he said. "Then I turned it into an outreach with thousands of gyms. Almost 6,000 gyms now and haven't had any back problems since."
The show includes lively music that the students dance to and humorous asides.
"A teacher got in front of a class and said if there's any dumbbells here please stand-up," he tells the crowd. "One boy stood up. She said are you a dumbbell? He said, no, but I hate to see you standing there all my yourself."
The presentation though ends with a very somber message about suicide, bullying, and the dangers of alcohol, drugs, and texting while driving.
Like his volleyball playing, Holmes talks about beating the odds and pushing back against today's troubled world.
Holmes has appeared in front of five million people by now, and knows that he's making a difference.
"To get hundreds of e-mails from kids who were going to end their life and now they're alive," he said. "One kid was going to hang himself with a computer chord and said 'on my birthday I was going to hang myself but I have a purpose in life now and I don't want to kill myself'."
And it's obvious on this day that he's touched a lot more people.